Things to do in Sylhet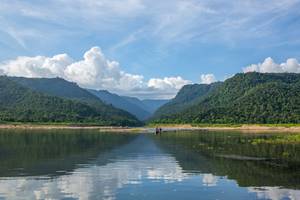 Sylhet is one of the multicultural and naturally beautiful districts of Bangladesh. You will see an ancient history, diverse culture, colorful ethnicity and breathtaking landscape while in Sylhet. Stretched tea gardens, green highlands with rivers on the foothills, different swamps, and wetlands, stunning waterfalls and springs, all these make a picture postcard beauty of this land.
With diversity in history and culture, Sylhet also has countless historical and religious sites. It is called the holy land as the saint Hazrat Shah Jalal (R) and Shah Paran (R) first came to Sylhet to spread Islam in Bangla region in the 13th century. Their tomb is located here, and these are probably the most visited place in Sylhet. 
As a holiday destination, Sylhet has been a favorite choice for the Bangladeshis for many years. You'll have multiple options of things to do in Sylhet including sightseeing, exploring and adventure trekking that can keep you busy for 2-3 days with adventure and fun.
The following five things to do in Sylhet are the most popular activities in this region that have a low level of difficulty, and anyone can do. These spots are the most beautiful places in Sylhet and thus an increasing number of tourists visit these places throughout the year. Among these spots, some are discovered by the enthusiastic travelers and gained popularity less than a decade ago.
Jaflong is probably the oldest and the most popular excursion center in Sylhet. It is a scenic river attraction overshadowed by the Khasia Hills. 
The location of this unique attraction is 60km north of Sylhet town. Driving duration is about 2 hours.
How to go:
You can hire car or van for a round trip to Jaflong from Sylhet town. You will find many cars for rent for these tours in the Notun (new) bridge bus stand in the city. With a little bargaining, you will get a good deal of Jaflong round trip along with stopovers to the attractions on the way such as Tamabil land port, Sripur falls and Jaintapur Palace. It costs around 4000-6000 taka based on the car seating capacity.
You can also take the local buses to reach Jaflong that starts from the Notun bridge bus station.
Activities:
Observe natural beauty of Khasi hills, Piyain River, and many falls.
Boating on the rivers.
See the colorful tribal life of Khasias
Visit Jaintapur king's palace
Bisnakandi is a newly discovered tourist attraction in Sylhet. The place is much like Jaflong which is mainly a quarry. The spectacular view of the hills and rivers are the main charms of this location.
Bisnakandi is located 60km north of Sylhet city. It takes around 2-3 hours to reach the spot by car and boat. 
How to go:
Go to Ambarkhana in Sylhet city. Hire or share a three-wheel auto rickshaw from Ambarkhana to Hadarpar in Gowainghat sub-district. Hired auto rickshaw fare 400-500 taka (one way) and shared auto rickshaw 80-120 taka per person. Driving duration 2 hours. From Hadarpar, rent a boat for round trip to Bisnakandi spot. Boat fare 800-1000 taka. Alternatively, you can take a 4km walk from Hadarpar to Bisnakandi without hiring a boat.
Activities:
Admire the beauty of mountains that meet rivers in the foothill.
Boating
Hiking
Ratargul is a rare swamp forest in the world. This freshwater swamp forest has a wide variety of bio diversity and natural phenomena.
The forest is located about 26km north of Sylhet town and takes around one hour to reach. 
How to go:
Hire or share auto rickshaw to Motorghat from Ambarkhana in Sylhet city. From Motorghat hire a boat to visit the forest inside. Boats will cost around 600-1000 taka for a trip inside the forest for about 1-2 hours. There is a five storied watch tower in the forest. Don't forget to check that one.
Activities:
Explore the natural wonder of Ratargul forest.
Get a 360-degree bird's eye view of the forest from the watch tower.
Adventurous canoe riding inside the mysterious forest. 
Nestled in hills, natural forests, and tea gardens, Lalakhal is a riverine village located in the northern border of Bangladesh in Jaintapur sub-district.
The green water of the river and the shades of the mountains on both sides attract the nature lovers and tourists.
Lalakhal needs to reach from Sylhet via Sarighat at Jaintapur. Sarighat is about 42 km from the city on Sylhet Jaflong highway.
How to go:
From Sylhet city, go to Sarighat. Driving duration one hour. The tourists from Sarighat usually go to Lalakhal with boats. In the local engine boat, it takes about an hour and fifteen minutes to go to the main stream of Sarai river. 
Activities:
Boat ride with magnificent river view
Visit Lalakhal tea estate
Tent camping 
Hiking
Sylhet city attractions
The main town of Sylhet has many historical and religious attractions, natural parks and tea gardens that can take almost a day to explore. The city also boasts tasteful eateries and comfortable accommodations. So, it is always fun and entertaining to discover the attractions of this city. 
All the attractions mentioned below are located in the city and easy to commute by local bus, auto rickshaws or rented cars.
Add Your Comment
Use the following form to leave your comment on this article.