Cox's Bazar Travel Guide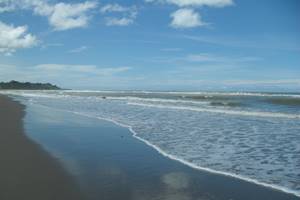 Bangladesh possesses the longest sandy sea beach in the world int it's Cox's Bazar district. This beach is stretched north-south in the southeastern part of Bangladesh on the eastern shore of Bay of Bengal.
Cox's Bazar is one of the most exotic tourist destinations in Bangladesh. The sandy beach, low and safe slope, gentle wave, all these are the reasons that appeal tourists throughout the country.
The prime attraction in here is the long stretched beach. The beach is about 125 km long. Tourist activities, accommodation, and eateries are however located in a part of the beach and the rest is untouched. Beaches in Cox's Bazar, Himchari and Inani are the most attractive part of this long shore.
Most of the hotels, restaurants and rest houses are located on the beach near the town. A few number of hotels are being build nowadays in Inani and Himchari area.
Cox's Bazar is an ideal place for spending exceptional vacations with family and groups for 2-3 days with fun and water sports.    
How to Go
Because of the popularity and high flow of travelers, the communication system has been developed rapidly between Dhaka and Cox's Bazar recently. The most luxurious buses in Bangladesh have direct services between these cities. Daily flights are available and became easy to get. Direct train service has not been started yet but is under process. It is quite easy now to travel Cox's Bazar with luxury and comfort.
By Bus: Direct buses to Cox's Bazar can be found from Arambagh, Fakirapul, and Kamalapur where most of the buses to Cox's Bazar start. Both air conditioned and non air conditioned buses leave from these stands every hour. Some of the popular bus companies in this route are Greenline, Shohagh, Hanif, Saudia, S.Alam, Desh, TR and many others. 
Fare varies 700-900 taka for non AC buses and 1200-2000 taka for AC buses.
By air: You can get daily flights from Dhaka airport to Cox's Bazar. It is recommended that you book your ticket advance. Aviation companies offer attractive discounts and promotional packages at different times of the year. Check for these offers to get a good vacation deal.
By train: Although there is no direct train line, you can still go Cox's Bazar by train through Chittagong. From Chittagong, it is only 3 hour drive to Cox's Bazar. 
Dhaka – Chittagong train fare varies from 285 to 1100 taka starting from 2nd class to AC berth. Chittagong to Cox's Bazar bus fare ranges from 350 to 900 taka depending on the bus type.
Cox's Bazar Attractions
The beach is not the only attraction of Cox's Bazar. As a diverse cultural region mixed with Rakhain tribes, this small beach resort has many other points of historical, and religious interest.
Himchhari
: About 10 km south of Cox's Bazar. There is a spring named Himchari here. Cox's Bazar forestry department has established as picnic spot here.
Inani: It is a beach with coral stones similar to the St. Martins Island. Inani is located about 23 km south of Cox's Bazar.
Dulahajra Safari Park: This Safari Park is located in the beautiful scenic forest of Dulahajara Reserve on the eastern side of Chittagong-Cox's Bazar highway.
Maheshkhali: This is an island located 7-8 km north of Cox's Bazar. You need to go there by boat. 
Attractions in Cox's Bazar Town: This small town has many interesting sites such as Hilltop Circuit House, Cox's Bazar Lighthouse and Radar Station, Badar Mokam Mosque, Buddhist Temple, Burmese Market. All these attractions can be visited by auto rickshaws or rented cars from the town.
Add Your Comment
Use the following form to leave your comment on this article.