Exploring the Thrills and Delights of Dream Holiday Park in Narsingdi, Bangladesh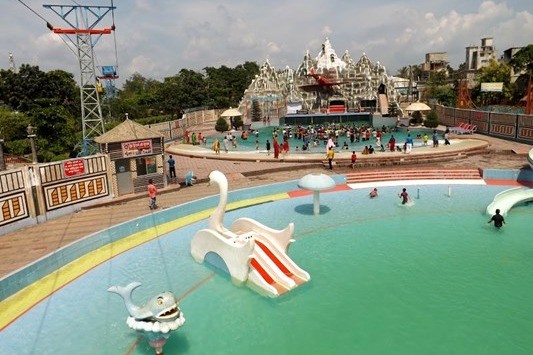 Dream Holiday Park is a popular tourist destination located in Narsingdi, Bangladesh. It is a sprawling amusement park that caters to visitors of all ages, offering a variety of thrilling rides and attractions. Here are some of the top attractions at Dream Holiday Park that make it a must-visit destination:
Water Rides: The park boasts a range of water rides that are perfect for beating the heat on hot summer days. The water park has various slides, including the Speed Slide, Black Hole, Multi-Lane, and Wave Pool, where visitors can enjoy surfing waves and take a refreshing dip.
Thrill Rides: Dream Holiday Park also has plenty of thrill rides that will get your adrenaline pumping. Some of the most popular rides include the Flying Chair, Rodeo Bull, Pirate Ship, Bumper Car, and Giant Ferris Wheel. The park also has a roller coaster for those who love to feel the rush of high-speed rides.
Kids' Rides: Children are not left out at Dream Holiday Park, as there are plenty of rides designed especially for them. The park has a Kids' Zone with a variety of attractions such as mini Ferris wheels, mini roller coasters, bumper cars, and merry-go-rounds.
Entertainment: Besides rides, Dream Holiday Park also offers a range of entertainment options such as live music, dance performances, and magic shows. Visitors can enjoy different shows throughout the day to keep themselves entertained.
Food: The park has several food stalls and restaurants that offer a variety of local and international cuisine. Visitors can indulge in snacks like cotton candy, popcorn, and ice cream, as well as savory dishes like grilled chicken, biryani, and pizza.
Beautiful Landscapes: The park is set amidst lush green landscapes with stunning gardens and fountains. The park also has a lake where visitors can enjoy boating and relaxing while taking in scenic views.
Accessibility: Dream Holiday Park is easily accessible from Dhaka, the capital city of Bangladesh, making it a convenient destination for tourists. Visitors can take a bus, train, or taxi to reach the park. The park also has ample parking space for those who choose to drive.
In conclusion, Dream Holiday Park is a perfect destination for those looking for a fun-filled day with family and friends. With a variety of attractions and activities to choose from, visitors are sure to have a memorable experience at the park.
(Photo Credit: Md Shafiul Bashar)
Add Your Comment
Use the following form to leave your comment on this article.